Design Challenge:
To create a quick way to share job ads to the user's social media platforms.
To design a web-based sharing flow that allows JobAdder users to promote a previously created job advertisement.
Research
Sharing jobs on social media
Artificial Intelligence's influence on social media
https://www.smartdatacollective.com/future-social-media-depend-artificial-intelligence/

https://www.martechadvisor.com/articles/machine-learning-amp-ai/the-impact-of-artificial-intelligence-on-social-media/
The effective way of sharing on social media
https://blog.hootsuite.com/cross-promote-social-media/

https://martechtoday.com/persado-now-generates-emotionally-targeted-marketing-messages-individuals-205938

https://www.forbes.com/sites/jaysondemers/2018/06/01/the-reactive-sharing-epidemic-on-social-media-and-how-to-exploit-it/#5af1f3c47c03

https://www.adobe.com/au/experience-cloud/use-cases/campaign-orchestration.html
Product research on AI that customises messages on different platforms
https://jetpack.com/support/publicize/
Brainstorm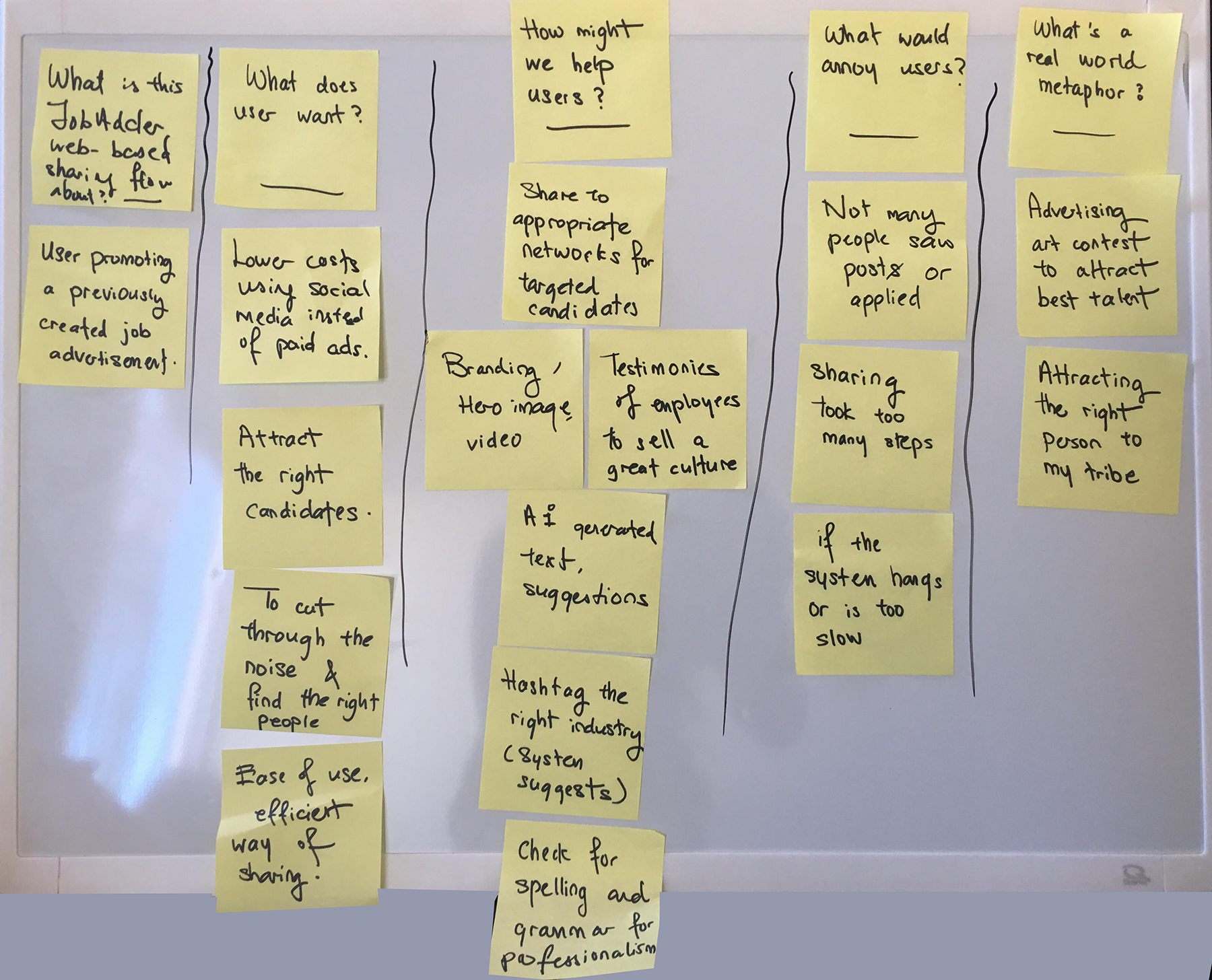 Unpacking the assumptions
Based on the quick research I did online, I went on to brainstorm the business and user assumptions to inform on the design of the workflow.
This is a first sketch of the IA. This stage helped accelerate the low and hi-fidelity design stage.
Based on the business/user assumptions and IA, I sketched out some quick ideas, focusing more on macro design concepts.
As I worked through the hi-fidelity designs, I decided to add in an introductory screen to inform first-time users on the Ai job ad sharing post capability.
Scenario 1
Joseph is a first time user to JobAdder's newly added AI driven tool, a workflow that helps users share a job post quickly and efficiently. He sees an introduction prior to getting started with posting a job advert he wrote a few weeks ago.
Scenario 2
Joseph decided at a later time he'd like to share the post to people in his address book too. He wanted to add Sai Mahmood to the send to list and started typing "S" which shows him a list of names starting with the letter.